STEEL WOOL FOR ELECTROWINNING, METAL SEPARATION & RECOVERY
Steel wool rolls, steel wool fibers or Texsteel Blankets are commonly used for METAL SEPARATION to lower or separate GOLD, SILVER, NICKEL & COPPER and other heavy metal ion contaminants.  Common uses are in discharge water, fixer solutions from X ray film processors, and spent baths from Electroless Plating operations.  Since steel wool is made from low carbon steel and has a high surface to weight ratio it is an excellent choice for metal separation and recovery, also known as the metal ion exchange process.
APPLICATIONS:
Processing spent Fixer solutions from X-Ray & Photo Labs
Electroless Nickel Platers
Hexavalent Chrome Recovery
Recyclers & Refiners
FEATURES:
Each Cartridge is evenly wound with precise tension to a specific density in order to create an even flow and prevent channeling.
Available in all grades #0, #1, #2, #3 or #4.
Choose from cardboard or PVC core or without core.
We offer standard sizes as well as custom dimensions to fit your existing equipment or we can even develop a cartridge for your application.
We also offer chopped steel fibers for higher surface exposure and improved flow.
COMMON SIZES:
4, 8, 12 and 24 & 25 lb Cartridges
From the company whose history in the metal wool, cleaning and finishing business goes back nearly a full century.
USEFUL LINK:  ELECTROWINNING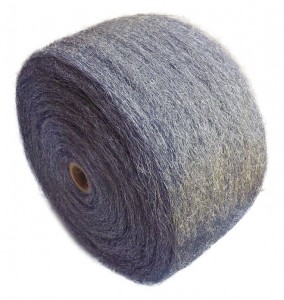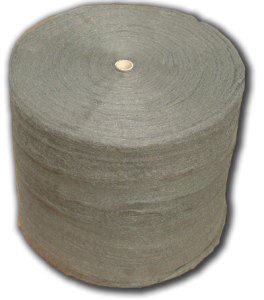 TEXSTEEL BLANKETS – Material Types:
Carbon Steel — for normal abrasive or filtering usage where heat and rust are not problems.
Stainless Steel, Type 434 – Use stainless steel wool for excellent corrosion resistance in wet or high humidity areas and high-temperature applications.
FEATURES:
Proprietary process that firmly interlocks thousands of metal fibers into blanket form for various industrial uses.
Strong and durable blankets are highly porous and resilient to resist deterioration by heat or mechanical pressure.
TEXSTEEL makes possible fabrication of new products in which metal wool fibers offer advantages over other fibers. Density can be controlled; greater densities can be achieved in less space.
Capabilities:

THICKNESS: ¼", ½", ¾"or 1"  (unlimited thickness's are obtained when stacked)
WIDTH: Up to 120"
DENSITY: 2 – 12 oz/sqft
LENGTH: Limited only by weight.
Custom widths, lengths and shapes can be cut and slit in our fabrication shop.