Stainless steel wool is specially suited for many muffler / exhaust manufacturers, industrial insulation,  thermal insulation in power stations, gas and liquid filtration, pipe insulation, mist eliminators, heavy metal separation when corrosive, rust, tinder and heat are a concern.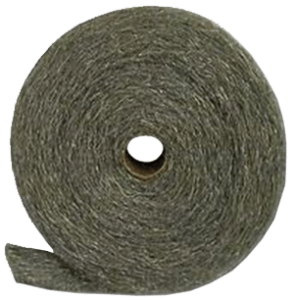 Product characteristics of Stainless steel wool:
Continuous ribbon of Stainless steel wool, Type AISI 434 (316L -special order)
Three common grades: Fine(50 micron), Medium (80 micron), Coarse (120 micron)
Density is controlled and specified in grams per linear meter
Excellent media source for corrosion resistance, noise reduction, and heat insulation
Heat Resistance up to to 800° C
Typical Reel size is 4″ wide and ¼" thick ribbon in 5 lb or 10 lb rolls (other sizes available)
5lb roll consists of approximately 125′ linear feet of continuous steel wool ribbon
Highly Resistant to Exhaust Acids and High Vibration, Making it an Excellent Material for Muffler Baffling.
Type 434 Typical Chemistry:
C 0.12% max. ; Si 1.0% max. ; Mn 1.0% max. ; S 0.03% max. ;P 0.04% max.;
Cr 16.0 – 18.0% max. ; Mo 1.25% max.; Fe-balance.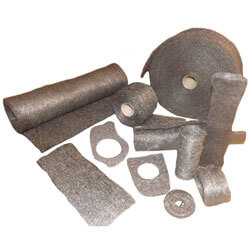 TEXSTEEL Stainless Steel Wool:
Consists of multiple cross layers of stainless steel wool with mechanical bonding.
Provides added strength and most consistent density for exhaust applications.
Bulk roll widths up to 75″ wide or die cut to specific sizes.
Thickness from ¼" up to 1″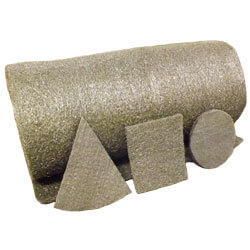 Custom Tubes and Die Cuts:
Stainless steel wool tubes or die cuts made to your exact specifications for pipe length or diameter for fast installation over baffles or inside muffler canisters.
Multiple tube assembly and combinations of basalt or fiberglass wool depending on your specifications.
Beneficial to reduce labor and installation costs.