[ezcol_1quarter]
More Products
[/ezcol_1quarter]
[ezcol_1half]
[ezdiv id="" class="my_desc" style=""]
Heat Insulation, Sound Dampening & Filtration
Steel wool and Stainless Steel Wool produced into a Needle Felted form called TEXSTEEL, is widely used in many industrial applications for High Heat Insulation, Industrial Filtering, Noise Dampening, Coalescing Filter Media, Gas turbine generators, high temperature vessels, platen presses and oil mist separators.  Steel wool can be used in conjunction with wire mesh or fiberglass insulation for optimum results.
[/ezdiv]
[ezdiv id="" class="my_apps" style=""]
TEXSTEEL BLANKETS – Material Types:
Carbon Steel — for normal abrasive or filtering usage where heat and rust are not problems.
Stainless Steel, Type 434 – Use stainless steel wool for excellent corrosion resistance in wet or high humidity areas and high-temperature applications.
FEATURES:
Proprietary process that firmly interlocks thousands of metal fibers into blanket form for various industrial uses.
Strong and durable blankets are highly porous and resilient to resist deterioration by heat or mechanical pressure.
TEXSTEEL makes possible fabrication of new products in which metal wool fibers offer advantages over other fibers. Density can be controlled; greater densities can be achieved in less space.
Capabilities:

THICKNESS: ¼", ½", ¾"or 1"  (unlimited thickness's are obtained when stacked)
WIDTH: Up to 120"
DENSITY: 2 – 12 oz/sqft
LENGTH: Limited only by weight.
Custom widths, lengths and shapes can be cut and slit in our fabrication shop.
[/ezdiv]
[/ezcol_1half]
[ezcol_1quarter_end]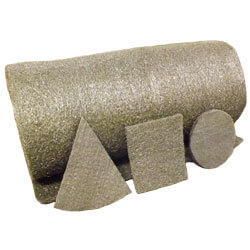 [ezdiv id="" class="my_cart" style=""]
[/ezdiv]
[/ezcol_1quarter_end]